C

heck out our FixtureCare application video!
WATER FLOW MAINTENANCE & INFECTION PREVENTION
Are you following ASHRAE guidelines for faucet laminar cleaning and disinfection? The WSS Faucet Maintenance Program ensures that you are. It also helps your Water Management Plan be effective by maintaining the water-saving properties of laminar flow devices, mitigating bacterial risk and documenting code compliance.
Faucet Maintenance Saves Money and Improves Infection Prevention
The WSS Faucet Maintenance Program removes scale and mineral build-up from every faucet to eliminate harbors for bacterial growth and keep them flowing in a water-saving, splash-free, stream. All laminars receive new antimicrobial inserts to maintain effectiveness. You can be confident that code compliance is achieved and documented for every faucet in your facility. That includes OSHPD and CMS as well as ASHRAE 188-2015, Legionellosis: Risk Management for Building Water Systems, 7.1.2. System Maintenance. Benefits of the Program include:
Continued water conservation
Continued antimicrobial protection
Compliance with OSHPD, CMS and ASHRAE 188-2015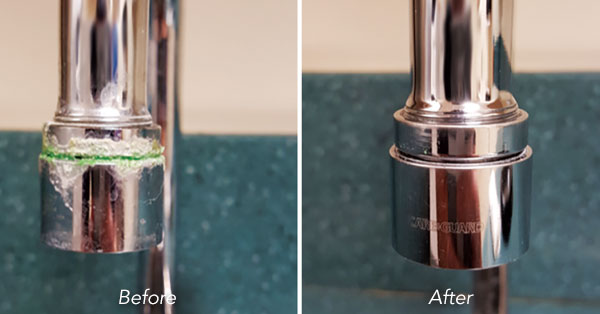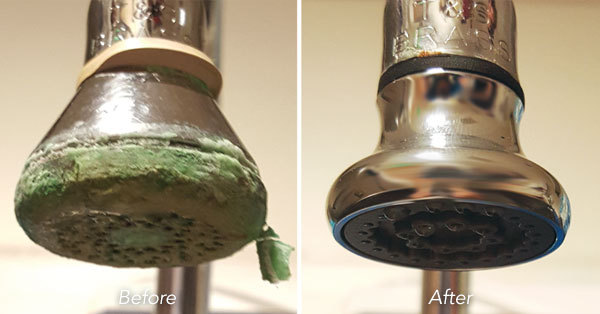 Documentation Meets Compliance Standards
At each service completion, we provide two types of reports: a Summary Report and a thorough maintenance document covering every faucet in your facility.
The Summary Report includes:
Maintenance Summary stating the number and type of devices serviced and the reason for any additional fixture service.
An Infection Control Summary addressing excessive scale deposits and high-risk areas that may require more frequent maintenance.
Before and after photos showing examples of mineral buildup removed.
Maintenance Documentation includes:
A spreadsheet listing every faucet serviced by building, floor, department, and room, and any additional service needed.
Identification of locations with excessive scale buildup.
Maintenance Goes Beyond Faucet Laminar Cleaning
We go beyond manufacturer guidelines for cleaning faucet laminars and include a sink service at the same time. The manufacturer recommends annual cleaning of laminars to maintain proper flow and infection prevention benefits. ASHRAE recommends cleaning and disinfection of laminars in high-risk patient-care areas as part of Legionella control measures. Our process for cleaning and refurbishing existing faucet laminars includes:
Clean and refurbish faucet laminars following manufacturer guidelines
Install new flow control inserts to restore AgION® antimicrobial efficacy
Remove mineral buildup from spout ends
Cycle angle stops and flush hot and cold lines
Tighten loose fixture components
Document compliance issues and any additional maintenance required